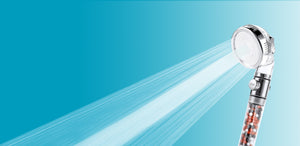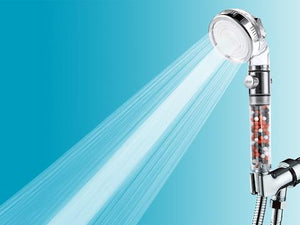 A SHOWER THAT MAKES A DIFFERENCE
Ready to boost water pressure, flow and efficiency without costly bathroom repairs?
With Showery's EcoFlow Shower Head, you never have to settle for an underperforming shower again.

This innovative showerhead uses the latest showerhead technology to increase water pressure and reduce water usage all while purifying and softening water.

A more enjoyable shower is just a few simple steps away with Showery!
Our Promise
We are confident you will be 100% satisfied with our products, but if there are any issues we will replace it for FREE without the need to return it.
Our products are universal and fit the majority of showers but if for some reason our product doesn't fit your shower, we'll gladly issue a FULL REFUND.
EcoFlow Pure: Affordable, effective, and multi-functional. Just $29.99 can transform your home.
• Improves water pressure
• Filters and softens water
• 3 Modes (massage, rainfall & jetting)
• Easy attachment by screwing into wall-mounted showers
BUY NOW
The Original EcoFlow: Everything you need in a showerhead. Perfectly suited for all shower hoses and handheld showers. Affordable at only $25.99.
• Improves water pressure
• Filters and softens water
• 3 Modes (massage, rainfall & jetting)
• Screw directly into shower hoses for simple installation and immediate shower access
BUY NOW
EcoFlow Wall Adapter Pack: Flexible, powerful, and a must-have for any household. This package offers both customizable variety and tranquil showers.
For only $35.99, shower head, hose, and adapter included.
• Improves water pressure
• Filters and softens water
• 3 modes (massage, rainfall & jetting)
• The ultimate option for easy wall-mounted shower conversion
BUY NOW
EcoFlow Combo Pack:
Elevate your bathroom's functionality with the adaptable EcoFlow Combo Pack.
Equipped with EcoFlow Original and EcoFlow Pure, hose, and adapter. An all-inclusive offer of $69.99.

• Improves water pressure
• Filters and softens water
• Both the wall-mounted head and handset include 3 Modes (massage, rainfall & jetting)
• Transforms showers into wall-mounted shower and handheld showerhead to suit your needs
BUY NOW
Improve Water Pressure
Get instant, powerful showers while doing good for the planet. The EcoFlow uses an innovative combination of H20 laser perforated technology and 300 water-saving micro-holes to reduce water usage and boost water pressure. A showerhead that makes a difference in your everyday routine and the environment.
Enjoy 3 Showers Modes
Massage: our most powerful focused stream that melts away tension.

Rainfall: a more relaxing shower experience with a constant, steady water flow.

Jetting: a high-intensity spray that wakes you up and invigorates your senses.
Mineral Stone Filtration
Like a natural spring, we've incorporated mineral stones into our innovative design to soften and purify hard water.
Anion, ceramic and tourmaline stones can filter out dirt and toxins, including chlorine, fluoride, and pesticides—for a shower experience that feels great and is gentle on your skin and hair.
With less chlorine and other unwanted elements in your water, skin and hair looks and feels softer and healthier in no time.
BUY NOW
Effects of Chlorine
Chlorine strips the natural oils from your hair and skin, leaving them dry, rough and damaged.
Some alarming effects on your body could include altering hair color, weakening hair strands and creating split ends.
Removing chlorine from your shower's water stream is essential for maintaining healthy hair!
Healthier Hair and Skin
Boost the natural shine in your hair and skin by showering with only purified water. The EcoFlow's mineral stones can soften water and filter out toxins, including highly damaging chlorine. Gentle on your skin and healthy for your hair.
EcoFlow Stop Button
Pause steady, full-stream flow anytime you want with the EcoFlow's stop button.
Maintain preferred temperature constantly to keep yourself, kids, and pets comfortable during shower time.
Easy to Clean and Maintain
Wipe away limescale and mineral residue in seconds. Streamline your shower cleaning routine thanks to our adonized aluminum shower face.
Reduce Water Consumption
We're committed to creating a shower that is better for you and the planet. Our innovative showerheads feature laser perforated micro-holes and a stop/start button so you can reduce your environmental impact and save money. 
A DIY Installation Dream
No need for a plumber to interrupt your schedule for installation. EcoFlow Shower Heads can be self-installed to any handheld or wall-mounted shower in a matter of minutes. That means less time stressing and more time relaxing with your new and improved shower.

Hand-Held Showers: Simply screw the EcoFlow into your current shower hose for instant installation.

Wall-Mounted Showers: Our state-of-the-art adaptor ensures you can attach the EcoFlow Shower Head to a wall-mounted fixture so it can be used as a handheld and fixed shower.
See How it Works
To see for yourself how easy installation is and watch Showery in action, check out our videos below. Our products are designed to fit the majority of shower types.
Frequently Asked Questions
Showery® fits all showers including wall mounted and hand held showers, also fits to any standard shower pipe, hose, arm, extender or filter. All popular shower manufacturers use the same sized piping so it won't be a problem screwing your new handheld shower head into your existing shower. 
On average their lifespan is about 12 months (as tested by our customers). You can order replacement stones here.
We offer FREE Shipping. If you are not satisfied with your purchase or if there is a problem, we do not require customers to return the item to us, we will find a solution for you or fully refund you.
Yes, absolutely. The shower head comes with mineral stones included. Simply install the shower head and start using it straight away.
View Our Video Testimonials
Test & Review by David - Greenville, SC
Review by Susanna - San Jose, CA
Test & Review by Tony - Monroe, WA

''Very easy to install and water pressure is awesome - I love it!'' - Tina, Anchorage AK
''Agree it could help save water, soften water, overall my children like it'' - Jon, Denver CO
''I absolutely love this shower head! It increased my water pressure tremendously'' - Jesse, Reno NV
Transform Your Shower Today