Hurry! This special sale ends in
EcoFlow Combo Pack
Regular price
$140.00
Sale price
$69.99
/
Tax Included.
Hurry! This special sale ends in
---
Introducing The New Showery® EcoFlow Combo Pack
One more step towards a more enjoyable shower and an eco-friendly home.
- Improves Water Pressure

- Softens and Purifies Water

- Reduces Water Consumption

- Creates Better Shower Experience
Our ingenious adapters will instantly convert your shower!
TRANSFORM THIS:
INTO THIS:
Package includes: Wall+Handheld Combo Pack:  Three Mode Handheld Shower Head + 5ft Hose + Wall Shower Arm + Connector & Holder
UNIVERSAL FIT-QUICK & EASY INSTALLATION
The EcoFlow fits all showers including wall mounted and hand held showers, also fits to any standard shower pipe, hose, arm, extender or filter.
Our ingenious brackets easily transform wall mounted showers into flexible showers that can be also be used as a hand held shower.
WATCH OUR INSTALLATION VIDEO:
We are so confident in our products that if there's any issue, we'll replace it for free, NO RETURNS NEEDED!
Our products are universal and fit 99% of shower types, that's why we offer a compatibility guarantee and if for some reason it doesn't fit, we'll process a FULL REFUND!
IMPROVE YOUR PRESSURE INSTANTLY
The EcoFlow uses an innovative combination of H20 laser perforated technology
and 300 water saving micro-holes to instantly give you a more powerful shower and reduce water usage. 
ENJOY 3 DIFFERENT SHOWER MODES
Massage: our most powerful focused stream that melts away tension.
Rainfall: a more relaxing shower experience with a constant, steady water flow.
Jetting: a high intensity spray that wakes you up and invigorates your senses.
MINERAL STONE FILTRATION
The mineral stones in the EcoFlow soften and purifies hard water into spring-like
water, which feels great to shower in and is good for our well-being.
Our mineral stone formula of Anion, Ceramic and Tourmaline stones can filter out dirt and toxins, including chlorine, fluoride, and pesticides.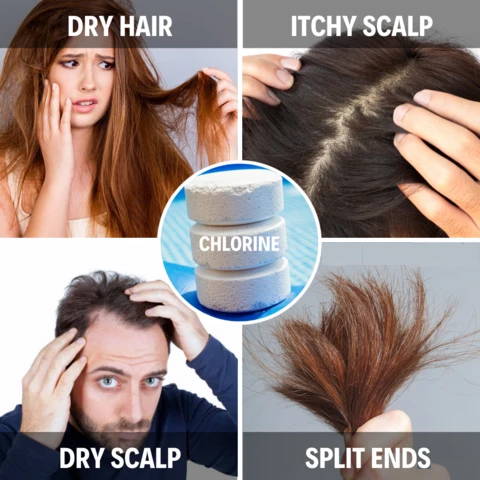 CHLORINE
Chlorine sucks the natural oils from your hair and skin, leaving them dry, rough, and damaged. Chlorine can also cause chemical reactions in your hair, changing the natural color of your hair, weakening each hair strand, and causing split ends.
HEALTHIER HAIR AND SKIN
Our new EcoFlow's mineral stones can soften water and filter out toxins including chlorine. Purified water is much gentler on your skin and healthier for your hair.
ECOFLOW STOP BUTTON
The EcoFlow's Stop button, lets you easily stop the shower at anytime without having to use the taps-keeping the water temperature constant, which is great for washing your hair, children and pets.
WIPE CLEAN SHOWER
Our anodized aluminium shower face allows limescale and mineral residue to be simply be wiped away
for an instantly refreshed look.
INNOVATIVE DESIGN & HIGH QUALITY
At Showery we are committed to creating innovative showerheads that are high quality and built to last. To ensure we maintain the highest standards we use premium materials and work directly with our manufacturers. 
100% SATISFACTION GUARANTEED
Try the NEW Showery® EcoFlow risk free for 30 days. If you don't love it, we will simply give you a full refund. Our New Showery® showerhead also comes with a 24 Month warranty.
A ''no returns needed'' policy - if you have an issue with our product, we will simply replace it for you - no questions asked and no need to return the item to us
The Checkout Process is Guaranteed to be Secure with Visa, MasterCard, Amex, Discover, or PayPal
VIEW OUR VIDEO TESTIMONIALS
Test & Review by David - Greenville, SC
Review by Susanna - San Jose, C
Test & Review by Tony - Monroe, WA
Transform Your Shower Today