Hurry! This special sale ends in
EcoFlow Pure
Regular price
$68.00
Sale price
$29.99
/
Tax Included.
Hurry! This special sale ends in
---
Introducing Showery EcoFlow Pure

One more step towards cost-effective and eco-friendly home.
- Improves Water Pressure

- Softens and Purifies Water

- Reduces Water Consumption

We are so confident in our products that if there's any issue, we'll replace it for free, NO RETURNS NEEDED!
Our products are universal and fit 99% of shower types, that's why we offer a compatibility guarantee and if for some reason it doesn't fit, we'll process a FULL REFUND!
WATCH OUR INSTALLATION VIDEO
Hard water is one of the main reasons why some skin diseases can develop and get worse. Conditions like acne, eczema, dermatitis, and psoriasis are extremely uncomfortable and damaging, and hard water does them little to no good.
It's important always to have clean and healthy water. Water isn't important to just drink, but shower too. Each can cause you damage to the body in its own way. That's why it's important to have a water equalizer like EcoFlow Pure.
IMPROVE YOUR PRESSURE INSTANTLY
The EcoFlow Pure uses an innovative combination of H20 laser perforated technology and 300 water saving micro-holes to instantly give you a more powerful shower and reduce water usage. 
ENJOY 3 DIFFERENT SHOWER MODES
Massage: our most powerful focused stream that melts away tension.
Rainfall: a more relaxing shower experience with a constant, steady water flow.
Jetting: a high intensity spray that wakes you up and invigorates your senses.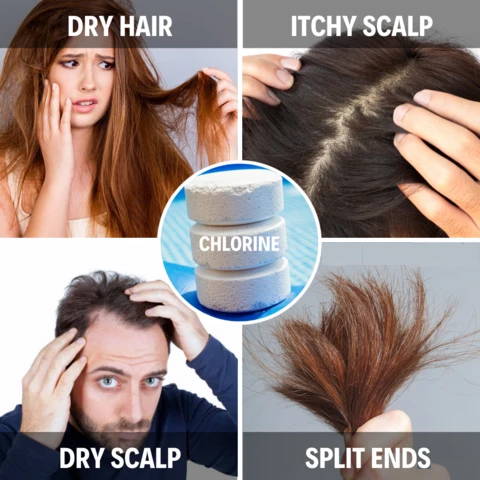 CHLORINE
EcoFlow Pure is the revolutionary shower head that is here to filtrate your water. It can remove chlorine and other damaging chemicals that only cause you pain and harm to your skin. Stop drying out your skin and hair with unhealthy water.
MINERAL STONE FILTRATION
The EcoFlow Pure helps filtrate your tap water from all those harmful chemicals such as nitrates, chlorine, and so many more that only cause you problems. Eczema, split ends, acne, and brittle hair can result from unhealthy toxic water.
With EcoFlow Pure, you can filter out all those chemicals and be left with healthy water that benefits you and your body. You will finally be able to wash and be left with clean skin and hair. Stop using regular showerheads that break down within weeks of use.
The EcoFlow Pure unique showerhead is made up of clear, high-quality materials. On the inside, it is filled with Alkaline Ion Ceramic Balls that can help filtrate the water and make it healthier. It is also filled with Micro-porous PP Cotton Mesh to furtherly strain those hard chemicals from your water and can leave you with healthy and clean water.
Even setting up won't be an issue with EcoFlow Pure. It's so easy and simple to understand, all you need to do is read the instructions. You won't need a degree in engineering to set up this shower head, unlike other shower heads that contain way too many parts.
HEALTHIER HAIR AND SKIN
The NEW EcoFlow Pure is an amazing shower head that benefits your skin. It drastically reduces water consumption without having to sacrifice the water pressure at all. Stop using hard water and start actively saving the environment you're in.
Our new EcoFlow's mineral stones can soften water and filter out toxins including chlorine. Purified water is much gentler on your skin and healthier for your hair.

FEATURES
Alkaline Filtration – it can filter chlorine and alkalis that can cause skin damage or dry out your hair.
Smart pressure system – this system reduces water consumption and, in turn, saves the environment around you drop by drop.
Multiple spray settings – Its three settings are highly convenient and adjustable to a person's liking and comfort.
Easy to use – It's extremely easy and simple to use and install onto your shower. You can do it all by yourself, just read the instructions.
High quality – the showerhead is made up of the finest materials. It's durable and long lasting.
OUR PACKAGES
- EcoFlow Pure - Filtered Shower Head
- EcoFlow Pure - Filtered Shower Head + 2 Replacement Filters
- Replacement Filters x2
* Choose your kit from the drop-down menu
FAQs
Will it fit my shower?
Showery® fits all showers including wall mounted and hand held showers, also fits to any standard shower pipe, hose, arm, extender or filter.
Can I install it by myself?
Yes, there is no need to call anyone as the showerhead is simple to install and use.
How often do you have to replace the mineral stones?
On average their lifespan is about 12 months (as tested by our customers).
100% SATISFACTION GUARANTEED
Try the NEW Showery® EcoFlow risk free for 30 days. If you don't love it, we will simply give you a full refund. Our New Showery® showerhead also comes with a 24 Month warranty.
A ''no returns needed'' policy - if you have an issue with our product, we will simply replace it for you - no questions asked and no need to return the item to us
The Checkout Process is Guaranteed to be Secure with Visa, MasterCard, Amex, Discover, or PayPal
Transform Your Shower Today